Summer Speakers
YRNO's  Summer Program provides local youth the opportunity to gain hands-on construction skills while participating in professional development and life skills workshops. A number of local subject matter experts visited the interns each week this summer to lead workshops on a wide variety of topics ranging from perseverance to financial literacy to sex education,  providing well-rounded training for teens to enter college and careers prepared.
 Orleans Public Defenders
The Orleans Public Defenders' Know Your Rights program visited our office to teach the interns their rights so that they will be prepared and knowledgeable moving forward. Robert Jones, from Orleans Public Defenders spoke to our interns about his wrongful conviction that took 23 years of his life, while also giving prevention advice so that no one has to experience that injustice in the future. One of the Public Defenders, D'juan stated, "Ignorance of the law is no excuse." We are very grateful for the Orleans Public Defenders for spending time with our summer interns.
Making Connections NOLA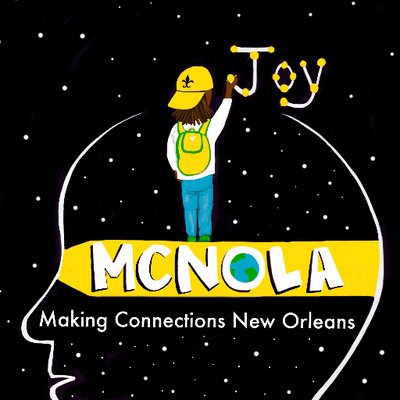 Making Connections NOLA is a non-profit organization that helps young people in New Orleans with mental health problems.  Khalilah Collins talked to YRNO's summer internship program about mental health and tips on how to deal with issues that may come about.  She led a number of mental health based activities and  shared a video on depression. So many young people suffer with mental health issues, and it's important that we continue this dialogue and share resources that help youth properly address their own mental health. We value our partnership with Making Connections NOLA. Thanks for your amazing work Khalilah!
Hancock Whitney Bank
Local banker Chandra Brit taught YRNO's summer interns the importance of managing money, budgeting, and credit. She also shared her personal money managing experiences and how she became better at managing money.  This is an imperative lesson for young people, and most schools here in New Orleans don't teach students about financial literacy.  We thank Chandra Brit for teaching our interns about personal finance.
Our Board Member, KD Minor, spoke to our summer interns about social media responsibility. Her talk involved ethics, intellectual property, and digital footprints. She also talked about the importance of watching what you post on social media, emphasizing that "thoughts are temporary," and  things you posted on social media at 19 may not be posts you are proud of at 25. It is very important for young people to learn about social media responsibility.  We thank KD for going out of her way to teach this lesson to our interns.
Entrepreneur Speakers
Four local entrepreneurs participated in a panel discussion on starting a business. They gave insight on how they took risks and how it wasn't advisable to chase after money. They also talked about doing what you are most passionate about, rather then doing something you hate.  This was an eye-opener for our interns, inspiring some to try to start their own businesses. We want to thank the entrepreneurs, Dinero, Danielle, Kentrice, and Quinton, for coming out and teaching our interns about entrepreneurship.
Investing and Stocks Workshop
Shout-out to Peyton Theriot for informing YRNO's interns about stocks and investments. Peyton spoke about knowing where you want to invest your money and monitoring the stock market.  Investing can open doors for young people, and it's important to start educating yourself about stocks and investment early in your career. We thank Peyton for his amazing job with our interns.  We also want to shout out his company (Edward Jones).
Tiffany Durgin
We were honored to have Tiffany Durgin enlighten our interns on power skill of perseverance. She exhibited great vulnerability sharing trials and tribulations that ultimately built her to the successful women is today. "Every person has a story," she emphasized, and tough times are only temporary.
Sex Education Speaker
Lolly taught our interns about the importance of consent, protection, and STDs.  This is very important to learn because Louisiana has the highest rates of sexually transmitted diseases in the country. Lolly was engaging and provided essential information for the interns' life skills.  We also want to thank her organization, iPrevent , for providing engaging materials and prizes for the participants.
Thank you to all the speakers who gave their time and energy to Youth Rebuilding New Orleans summer training program!